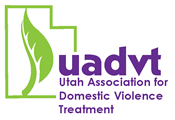 Utah Association for Domestic Violence Treatment

The UADVT was organized to fill the gap left by the dissolution of the Utah Domestic Violence Council's Treatment Committee/Workgroup. With this second annual conference, the association carries on the tradition of holding an annual conference for DV treatment providers and their partners.
Mission:
"Advancing domestic violence treatment, increasing offender accountability and improving victim safety and recovery"
Training Opportunities:
• DVNRE: Domestic Violence Needs and Risk Evaluation – special trainings
• Pre-service Basic Training Workshops
Click here for dates
Annual Conference:
September 14-16, 2016
Utah Valley Convention Center
Provo, Utah
UADVT Annual Conference
Keynote Presenters: Dr. Linda Chamberlin and Dr. Daniel Sonkin


---

www.drlindachamberlain.com
Linda Chamberlain, Ph.D. MPH
Scientist, author, professor, dog musher, and founder of the Alaska Family Violence Prevention Project, Dr. Linda Chamberlain is an internationally recognized keynote speaker and advocate for understanding the effects of domestic violence and adverse childhood experiences (ACEs) on brain development and health. She is known for her abilities to translate science into practical strategies for diverse audiences and convey a message of hope and opportunity. Dr. Chamberlain earned public health degrees from Yale School of Medicine and Johns Hopkins University and teaches at the University of Alaska. Her current work focuses on creating tools that highlight trauma-informed practices for parents, service providers and organizations that work with children and families and communities. Recognition for her work include a National Kellogg Leadership Fellowship, an Alaska Women of Achievement Award, serving as the inaugural Scattergood Foundation Scholar and the Fulbright Arctic Initiative. She lives on a rural homestead outside of Homer, Alaska with her husband and sled dog team. Pursuing certification in several practices that use breath work, movement and mindfulness, you can expect routine brain breaks to learn how these practices are being used to reduce stress and promote wellness.
A Trauma-Informed Approach to Children
Exposed to Domestic Violence
The brain's capacity to adapt and change in response to environment helps us to understand the enhanced vulnerability of a child's developing brain to potentially toxic stressors such as domestic violence and also the pathways to resilience and healing. This workshop examines the predictable and preventable physical, mental, behavioral, and cognitive challenges associated with childhood exposure to domestic violence. The impact of domestic violence is examined within a protective factors framework to facilitate trauma-informed practices and policies.

Learning Objectives
1. Discuss why the brain explains many of the potential consequences of childhood exposure to domestic violence.
2. Define neuroplasticity.
3. List three physical, mental, behavioral and/or cognitive effects associated with childhood exposure to domestic violence.
4. Describe the most consistent protective factor for children exposed to domestic violence.
5. List two essential needs of children exposed to domestic violence.

---


Daniel Jay Sonkin, Ph.D. is a Licensed Marriage and Family Therapist (MFT16644) in an independent practice in Sausalito, California. Since 1981, his work has focused on the treatment of individuals and couples facing a variety interpersonal problems, including domestic violence. In addition to his clinical experience, he has testified as an expert witness since 1977 in criminal cases where domestic violence is an issue. He has also evaluates defendants facing the death penalty conducting social histories with a focus on their childhood abuse and its impact on adult criminal behavior. He has also testifies as an expert witness in malpractice cases and licensing actions.

As one of the early specialists in the field of family violence, Dr. Sonkin has developed a widely used protocol for treating male batterers. His book, Learning to Live Without Violence: A Handbook for Men has been published in English, Spanish and Japanese and is utilized by treatment programs around the world. He is also the author of numerous articles and books on domestic violence and child abuse including, The Male Batterer: A Treatment Approach; Domestic Violence on Trial: Psychological and Legal Dimensions of Family Violence; and Wounded Boys/Heroic Men: A Man's Guide to Recovering from Childhood Abuse; The JurisMonitor Stabilization Program for Stalkers; A Counselors Guide to Learning to Live Without Violence; the co-editor of Intimate Violence: Contemporary Treatment Innovations; and Domestic Violence: The Court-Mandated Perpetrator Assessment and Treatment Handbook. For the past twenty years he has been integrating attachment theory and neurobiology into his clinical work with perpetrators and victims of violence, as well as his general psychotherapy patients. In addition to his clinical practice, he was an adjunct faculty member in the Department of Counseling at Sonoma State University from 1994 through 2004, a former member of the Ethics Committee (1989-1998) and is a former member of the Board of Directors (1998-2000) of the California Association of Marriage and Family Therapists.

He is the recipient of the 1989 Clark Vincent Award for Literary Contribution to the field of Marriage and Family Therapy from the California Association of Marriage and Family Therapists, and is the 2000 recipient of the Distinguished Clinical Member Award from the California Association of Marriage and Family Therapists.
---
Call for Presenters
Save the Date